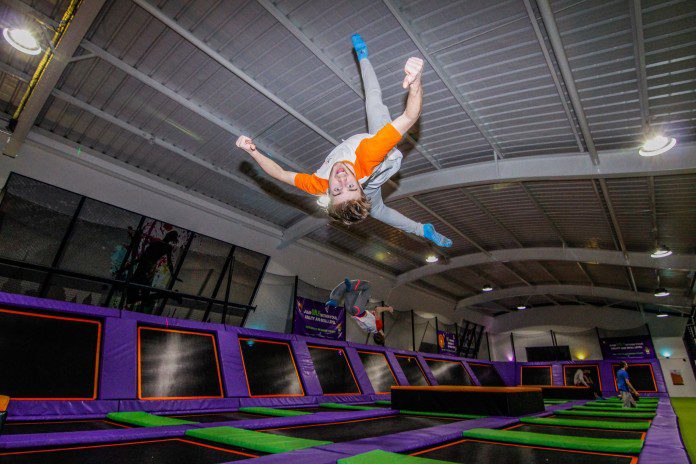 Most of us understand the value of staying fit and healthy. Without achieving fitness, it would not be possible to enjoy life and its myriad virtues to fullest. For years, people have joined gyms in the hope of gaining supreme fitness and the results have been mixed so far. Gyms are no doubt a good place to sculpt the body and gain health benefits in the desired manner. They are however marred by their inability to inject fun into the proceedings, and this is the reason why not all of us find gyms a viable option. After all, staying fit should be fun, not a boring affair.
Of late, trampoline parks have emerged a wonderful option for people to combine fun and fitness together. These parks are not only a popular weekend destination for families and kids in the UK but also a venue of gaining fitness. Here, interconnected trampolines exist all around, which gives visitors, especially kids a license to engage in a series of merrymaking activities. These parks bring a variety of exciting, unique and energetic activities to deliver a quality time to its visitors of any age group. Be it kids, teens or adults, such parks prove a paradise of pleasure for them all.
A visit to trampoline parks means anyone can jump between trampolines, bounce off the walls, fly in the air, flip through the air and showcase aerial tricks of any variety. Such parks merge the virtues of sports, entertainment and fitness together to enrich lives of visitors. Many studies and researches, including the one from the NASA, have long proved how jumping or rebounding on trampolines is 'one of the best workouts invented by men.' One can rebound and achieve lots of health benefits. More so, jumping on rebounding is three-times more beneficial than either jogging or running on a regular basis.
Trampoline parks understand all those fitness benefits they can deliver and as a result, they offer different classes to health-conscious people of all age groups. Anyone can enrol at fitness classes and gain supreme fitness and plenty of health benefits. Such classes are designed in a way to suit people and their age. Even fitness classes are hosted for kids where they can engage in mild form of exercises or workouts to inculcate the virtues of staying fit. In between attending those classes, visitors can enjoy a game of dodgeball or try their hand at basketball.
One of the best aspects about trampoline parks is their being safe and risk free as a spongy and soft surface is present underneath. This tempts anyone into jumping or bouncing or doing all sorts of activities otherwise not feasible on hard surfaces at homes. In a way, trampolining is not only a way to having fun but also to gaining health benefits. So, one can visit them and join any of the available fitness classes Leeds to feel good and gain fitness. After all, there is nothing where one can have fun and fitness as easily as it is at a trampoline park.