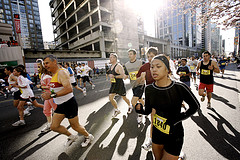 Although when it comes to running, what you get is what you put into it and divide it by half, I want to share some of the basic tips and tricks I've learned from more experienced runners than me. And I've experienced it all, from painful blisters to chafing to lack of support. If you implement some of these hints I am about to share with you, you might avoid some of the pain, and enjoy your runs even more.
It's harder outside
Sooner or later you'll decide to skip the gym and go running outside instead. The weather will be good, and the air will be fresh and inviting. However, you'll soon find out that running outside is much harder than your treadmill regime. Just think about it, outside you have real slopes, uneven terrain, the wind, the sun, the heat.
But has its benefits
All these variables make it harder than it already is. On the other hand, once you get used to running outside, your strength and endurance will improve dramatically. You'll drop those few extra pounds that somehow always used to stick to your waistline. Don't wait for that perfect day. Take your running out to the streets and parks as soon as the coming morning. You'll find, after the initial shock, that the same amount of time will amount to better results, and your runs will be infinitely more fun.
Buy high quality gear
Maybe you started your running in a pair of Chuck-Ts as I did, and paired them with thin cotton socks. If you went down that path, I don't have to tell you a thing or two about blisters. The point is that you don't need a ton of gear, but what you do have should be of a good quality. A pair of well-fitting running sneakers, a pair of wicking socks, a super supportive sports bra. You may deem it unimportant, but wearing a really good T-shirt is key. Legion tees are long-lasting and will allow your skin to breath, which will in turn keep you fresh and allow you to run just a little bit longer. Remember that there is gear that is designed especially for running and then there is some that is not.
Take advantage of running apps
Back in the day, enthusiastic runners used to mark the mileage of their routes by driving their cars along them and observing the mileage counter. Luckily, today there is a number of smartphone apps, for different platforms, and they are all GPS based. Not only do they keep track of the distance, but also calculate the workout time, the length of pace, calories, and eventually chart a map of your run. These useful apps can motivate you even further to keep beating your top score.
You don't need two bras
How many times have you heard that well-endowed girls are recommended to wear two sports bras so they can restrain the annoying and uncomfortable bounce? That is simply not true. Now, a cheap cotton sports bra won't make any change. Give it a little push and invest in a higher-end quality bra, and you'll be amazed by the difference. Your runs will also become much more enjoyable in an instant.
Set realistic goals
And, last but not least, believe me, the more you run, the easier it will become. I advise you to run at least three times a week to increase your endurance, strengthen your muscles and, which is equally important, so your heart and lungs can get used to the physical effort. A good strategy is to set up a distance that you can cover with some effort. Once the distance feels good, you should increase it a bit and so on. What you want to achieve is to run at a comfortable pace for a reasonable amount of time, without running short of breath.
Image Source: Flickr