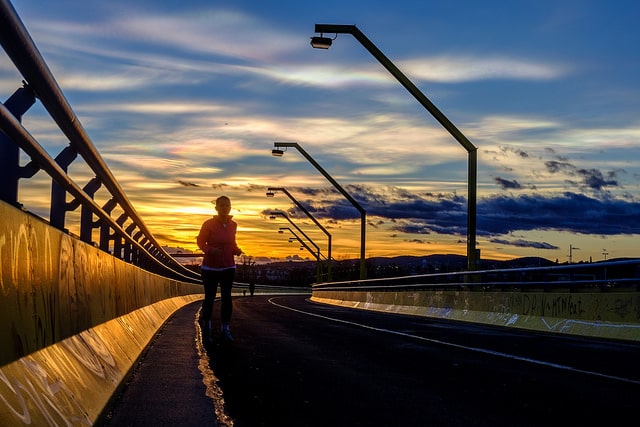 With cold winds arising, fitness plans are pushed down to the deeper layers of consciousness and snowed in under the need for comfort and warmth. Going outside is the least of people's concerns and festivities only add fuel to the fire with mouth-watering food. Despite all this, it is not a good idea to let wintertime turn into a season of sedentary hibernation. Once you get off track in the world of fitness, it can easily be the end of the road for you.
Break the ice
The ambiance of cold and darkness is not the most stimulating fitness stage. Some people have learned how to get by, while others retreat to indoor fitness arenas. Alas, not everyone has a gym membership or is into ice skating and hockey. Skating is easier to get into, though, and it an amazing aerobic workout. You do not have to perform triple axels in order to reap the benefits it offers. Simple variations like skating backwards enable you to work muscles in different ways.
And if that does not sound like your cup of warm tea, you can turn to the world of indoor sports. A sheer variety and different competition levels provide numerous opportunities. Group classes and fitness sessions are quite popular as well, and in case you do not like crowds and mingling, no problem: stay in the comfort of your home and immerse yourself in a solo workout. But, what if you want to get out and defy the chilly touch of winter?
Gear up
Regardless of the weather conditions, running represents one of the best ways to take your fitness to the next level. It brings various health benefits, wards off the effects of aging, as well as diseases and disabilities. Seasonal shifts bring forth some striking changes, and there are a few things to note before you go out into the open. It takes just a bit of creativity and some extra equipment to prepare yourself for winter fitness endeavors.
First of all, bundle yourself up in layers and take some extra time warming up. Note that proper footwear is an absolute must: water-resistant trainers or hiking shoes with multiple layers should do the trick. Furthermore, when darkness falls, you need to pay more attention to your safety. People who like winter hiking and exploring should be particularly careful, while runners ought wear reflective tape for a safe night run and brightly-colored clothing to help drivers notice them.
Step into fitness
One interesting option is to tread beyond the highways and byways of the concrete jungle. Go and find a snow-covered field. Ice usually does not form on grass, which means you are pretty safe. Feel free to engage in bursts of jogging, running, and jumping, or unleash your inner child and play in the snow. All of these activities recruit your muscles, and once you manage to master snow movement, every other surface will make you feel like greased lighting.
Finally, find ways to implement physical activity into everyday routines, and bear in mind that even walking counts, as it burns between 300 and 400 calories per hour. Likewise, taking the stairs each day is a great example of smart fitness. This may seem like a marginal contribution, but walking up and down is actually a high-intensity cardio and leg workout. Those who seek to proceed with baby steps can include walking intervals every few floors. On the other hand, tricks like climbing two steps at a time, jumping jacks, and sprinting allow you to step up the game.
Traces in the snow
Those who want to stay fit must not let moody Mother Nature interfere with their training plans. Maybe you cannot melt the snow and ice, but you can burn the calories and stress. Keeping fit outside the gym this winter does not have to be an ordeal, and sometimes, it is as simple as putting a winter jacket on and one foot in front of the other. One of the best things to do is to challenge your leg muscles like never before. Run around in the freshly fallen snow and welcome the spring with a beach-ready, sculpted body.