Best SuperFoods to Lose Weight
Nuts are healthy to eat, crunchy, and can be added to different foods to add their nutritional value. They have a high content of protein, and they are rich in healthy fats. Even better, they are low in simple carbohydrates. When consumed, they stimulate your body, and in turn, they burn excess fat. For this reason, they belong to the Best SuperFoods to Lose Weight.
A unique nutrient that is common with nuts is selenium. The key is to watch the calorie count when consuming nuts with the objective of losing weight. The following are nuts to consider for weight loss.
• Walnuts
Walnuts are rich in omega three fatty acids which are ideal for weight loss. Also, they contain high amounts of polyunsaturated fats. While they are suitable for losing weight, they also come in handy in decreasing the risk of cardiovascular diseases as well as other chronic conditions. You will not only lose weight but also lower your cholesterol.
A handful of walnuts on a daily basis will bring about the desired results in the long-term. While they will help you to lose weight generally, they also place a keen focus on losing belly fat. They contain powerful antioxidants as well as phytonutrients that are said to lower inflammation levels in addition to preventing type two diabetes.
• Brazil nuts
Brazil nuts are a favorite for many, and though it is for their excellent texture and taste, they are also ideal for consumption for those seeking to lose weight. They contain oleic acid and palmitoleic acid which regulate your cholesterol levels. They also include a trace mineral, selenium which provides the powerful antioxidants. This boosts the functionality of your body cells as they increase your overall immune system.
However, it is recommended that you watch your intake as you do not need too much. A serving of just five to six nuts a day will do the trick. You can add them to other foods and drinks to provide a more balanced portion.
• Almonds
Almonds which is referred to as a superfood for its antioxidants, healthy fats, as well as is rich in protein content. This combination makes it ideal for weight loss. Its consumption has been noted to reduce waist circumference, help with overall weight loss, as well as reduce body fat. For those with blood pressure, they have the added benefit of lowering systolic blood pressure. Its monosaturated fats are its vital reason why they are ideal for weight loss.
It is advisable that you eat these nuts before hitting the gym for better results. This is because they are rich in amino acids that will help you to burn more carbs and fat when you are working out.
• Peanuts
Peanuts are more common, and many do not know their benefits. They are rich in potassium, phosphorus, calcium, niacin, folate, as well as vitamin E. Also, they are rich in protein as well as fiber; this trait makes it ideal for weight loss. This is because they will leave you feeling fuller and thus managing your hunger.
It, therefore, suppresses your appetite, so you do not have to keep eating. Also, they will stabilize your blood sugar which boosts your energy levels while at the same time cutting on your cravings.
• Pistachios
Pistachios contain soluble fats that are ideal for weight loss. They meet your weight loss objective by making you feel fuller by suppressing your appetite so that you do not eat more than is necessary. This is ideal for individuals who have a craving for a given food. They are also recommended for those fighting belly fat with the aim of reducing their waist. They are even lower harmful inflammation. Overall, it will help you to lose weight and burn more fat as opposed to other nuts.
• Cashew nuts
Cashew nuts are an excellent source of magnesium which is essential for regulating the metabolism of fat and carbohydrates. By controlling your metabolism, you will be able to lose weight as well as maintain it in the long-term. Also, they are rich in iron and zinc. These boost your immune system and promote the oxygenation of blood cells for the better functioning of the body.
The above nuts are a great way of helping you to lose weight. They offer varying nutritional value; they have some similar traits that make them ideal for weight loss. Include them in your daily diet in the right portions, but this does not mean that you have to take all types in one day.
Check out the infographic below to learn more about the Best SuperFoods to Lose Weight.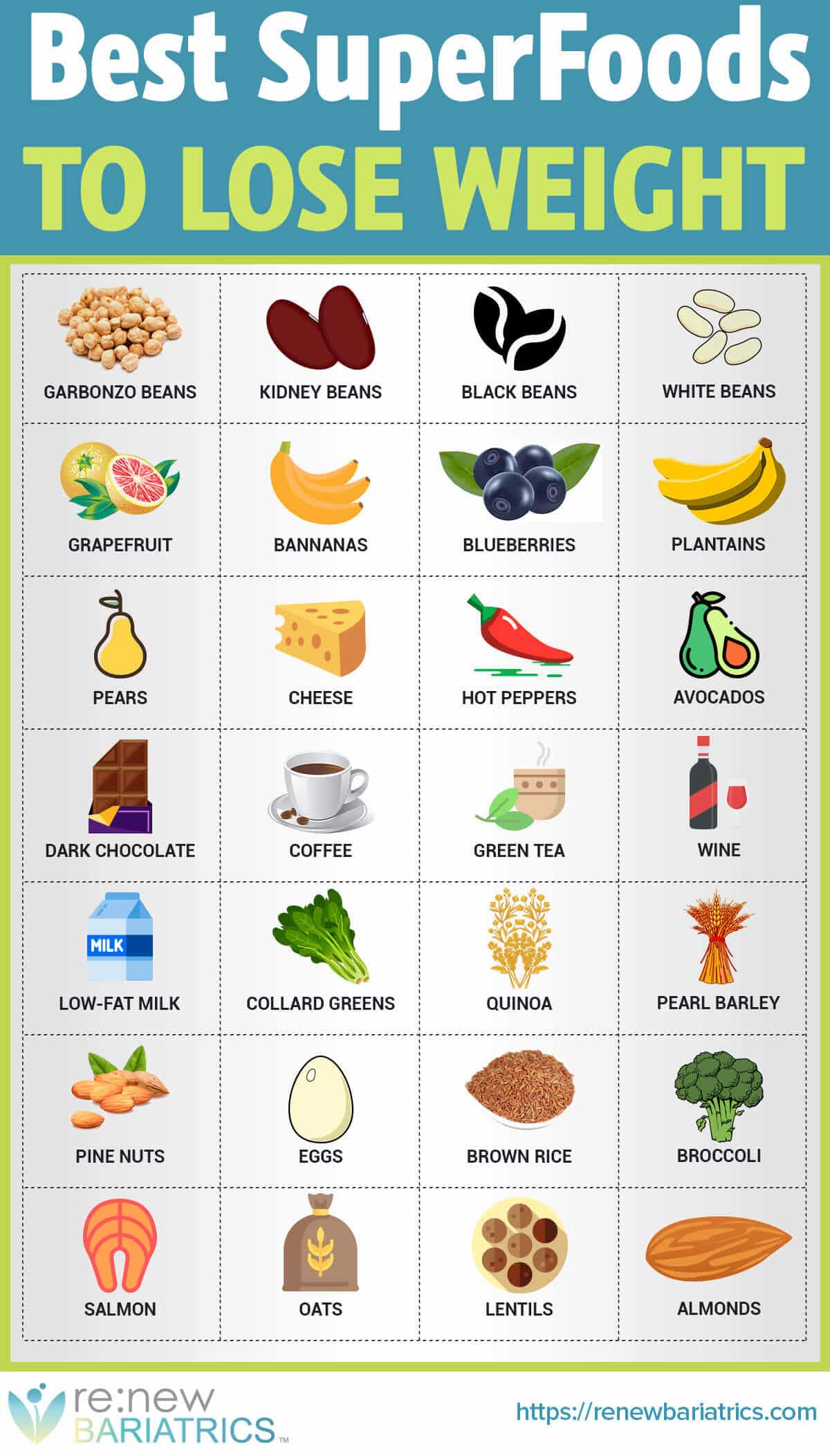 This article was submitted by: RenewBariatrics.com